In September 2017 we lowered 2,000 prices online, we've now increase this and lowered an extra 2,000 essential items for your school!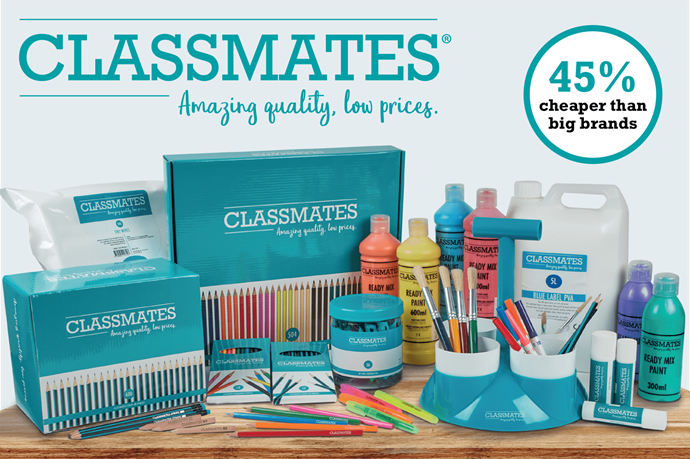 Switch and Save with Classmates
You can also save by switching from big brand items to our own Classmates range. When you add an item to your basket, we will offer you the Classmates alternative and show you how much you can save! Try it today and start saving on your everyday essentials.

Where you see the exclusive online pricing logo we have reduced the price of these products online against our 2018-19 published catalogue price. This pricing is only available on orders that are placed online.
For some products, you can make a further saving by switching to our own brand Classmates alternative. Where these are available, we will show you this in the basket on our website. You can choose to switch individual items, or all eligible products in the basket.  We will show you the savings that this will give you, but of course you are under no obligation to switch.
Frequently Asked Questions
What are exclusive online prices?
We have reduced the prices of some of our products, when purchased online only, against our 2018-19 published catalogue prices.  To receive the exclusive online pricing, you must place your order online.
All products with an exclusive online price will be shown clearly on the website.
What are Classmates alternatives?
Classmates is our own range of top selling school products.  Classmates are often cheaper than branded alternatives.  A branded alternative is a non-Classmates product of similar size, colour, variant and quality that could be used for the same purpose.
When you have a branded or non-branded product in your basket for which there is a cheaper Classmates alternative, we will offer you the ability to switch to our Classmates range and make further savings.  Of course, you are under no obligation to switch.
What is a "like-for-like" product?
For branded products, we match where competitors sell an identical product.  For non-branded products we match products that are identical in use, including size, colour, variant and quality.  "Like-for-like" products are comparable in terms of quality and size; in other words, it must be possible to use our products in preference to our competitors as a genuine alternative.
What about products that are not matched?
Products which are not matched are excluded from any saving calculations.